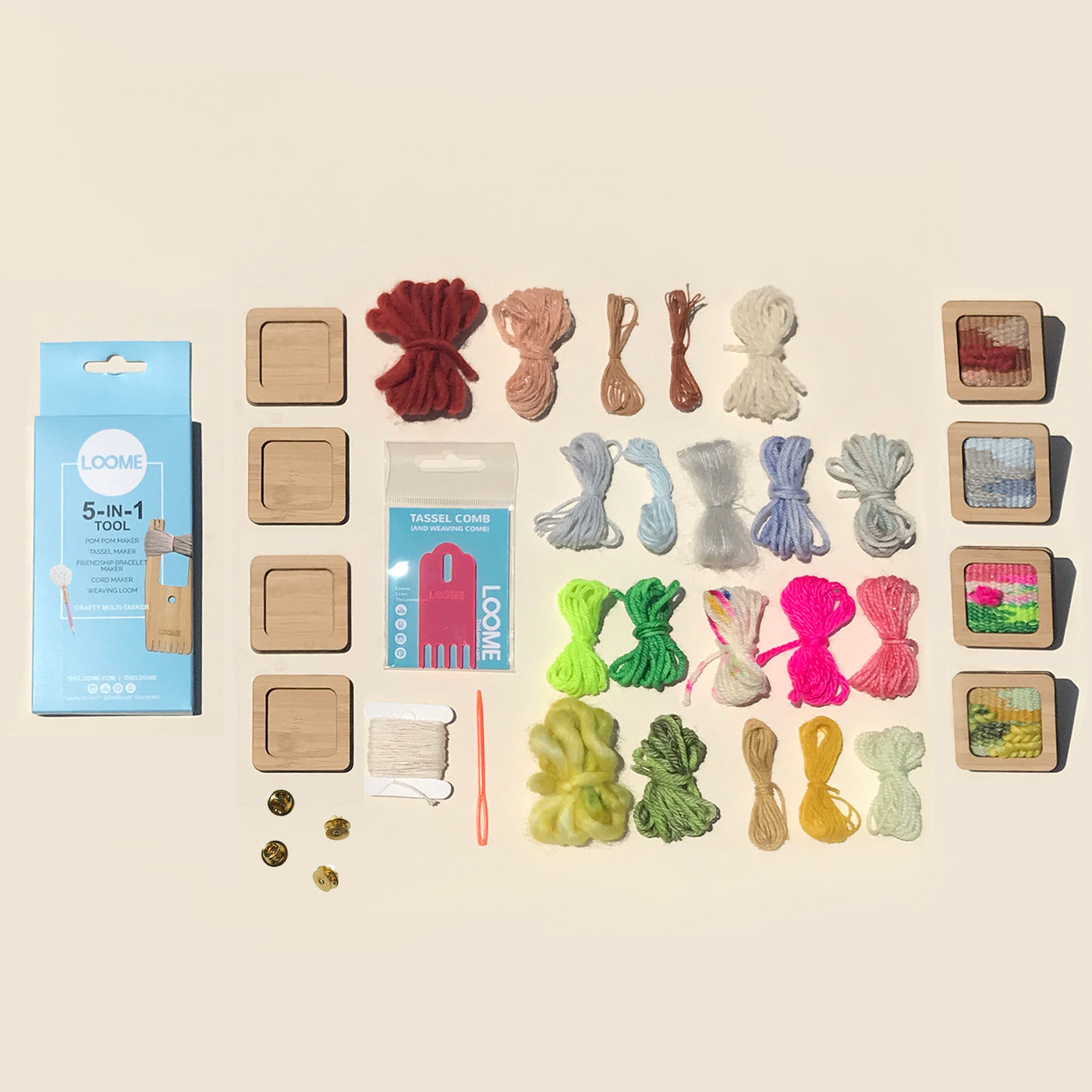 KIT: Mini Weaving Pendants
$ 40.00 USD
One of our favorite kits because it makes such pretty lil' weavings. With this kit, you can make your on weaving pendants/pins and put it on any thing to add beauty and texture instantly. Each pendant takes about 30-60 minutes to complete (check out the video below).

This kit comes in our colorful and cheery reusable box (7" x 4" x 1").
----------
USE: Making Mini Weaving Pendants or Pins
HOW TO MAKE A MINI WEAVING PENDANT OR PIN: Video (all 50+ Loome's how-to video library)
IDEAS & INSPIRATIONS: Instagram & Pinterest 
Which Loome tool model should you get?: Go here for a comparison chart.
--------------
WHAT'S IN THE KIT:
1. Loome Tool (optional)
2. Season's 100% Wool Yarn Colors ((Spring: Pink/Green  |  Summer: Greens  | Fall: Red Tones | Winter: Blue/Gray)
3. Warp Yarn
4. 2-in-1 Tassel & Weaving Comb
5. Needle
6. Interfacing
7. Mini Frames for Weavings
8. Lapel Pins for Mini Frames
9. Vise (Chips) and Glue (add-on optional)
10. Glue (add-on optional)
WHAT YOU'LL NEED (to frame a weaving):
- Scissors or Snips
- Glue (if didn't select for add-on)
- Vise (if didn't select for add-on) 

--------------
WEIGHT: 7 oz
MATERIAL: Bamboo, Yarn, Cotton, Nylon, Metal
ORIGIN: USA, New Zealand, South Africa, China